Back to School Supplies (2019-20):
Hello JHE families!
It is that time of year again that we starting thinking about next year.
Below this memo are the instructions on how to order your School Supplies for your child's next year's grade.  The list has been chosen by our teachers and put together as a package from Staples,  the company we use to order our supplies.
This is an online ordering form with a specific code for each grade.  There are two options for kits.  Option 1 has no headphones and Option 2 has headphones.  You may choose the kit you  like.  If you have headphones at home you may send those to school in the Fall with your child.  Please use your child's name when filling out the online form so we know who to give the kit to in September.  (with parents/children with different last names it can be tricky). Thank you.
You may also go into the store to pay if you wish.  Please take the attached letter to the store  to be sure your child's supplies arrive with the other kits.
In September your child will receive duo-tangs from their teacher and the payment will be made through School Cash Online.   (We order in bulk and we, as teachers, like the students to have the same coloured duo-tangs as it makes it easier for organizing our subjects).
DEADLINE to order is JULY 5th 2019.
SchoolToolsDearParentsLetter Grade 4
SchoolToolsDearParentsLetter Grade 3
SchoolToolsDearParentsLetter Grade 2
SchoolToolsDearParentsLetter Grade 1
Grade Supply Lists:
Below you will see the lists per grade. Please disregard the "bag" indicated on the list. Also, earphones or earbuds are also helpful for students to have at school.
Grade 1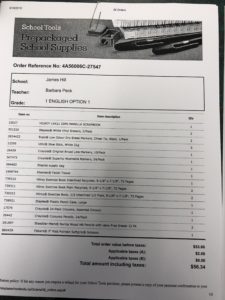 Grade 2
Grade 4
Grade 5