June 23, 2019
Dear James Hill Families,
The learning is certainly fun in the final weeks of June! We had buddies doing a Pirate Hunt fo
r hidden treasure, classes heading to waterparks and pools, the grade fours and fives traveled to Cultus Lake Waterslides, and many more exciting adventures. On Friday, we also celebrated National Indigenous Peoples Day with a school-wide assembly. The students shared their learning of the Seven Sacred Teachings over the past 7 weeks, we had student drummers, singers and dancers and we did a whole-school Circle Dance to O Siem.  It was a wonderful celebration!
We also had a Principal for the day on Tuesday, Principal Dunton! She did a fabulous job responding to the day's events and supporting students. She even was able to join Mrs. Simonetto for a Subway lunch! As part of her Principal duties, she has written a segment of the newsletter for this week:
The morning was really fun because I got to go to all the kids' classes and some of the classes I was able to read a book to. In the morning I also got to do the announcements, which was fun. After recess I was told that there was an urgent situation in a classroom. When I arrived there were kids who were itchy with 'red dots' all over them. Two other kids also got 'the dots'. I had to figure out who started the spread of 'the dots', and I realized that one of the kids was the only one wh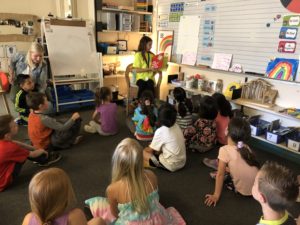 o had been in the grass at recess. So, I put on my rubber gloves, removed the kids from the others in the class so it wouldn't 'spread' and found an "antidote", which turned out to be water. The dots quickly disappeared! I had to inform parents through email from that class that this happened and all kids were safe. Afterwards, I went for lunch at Subway. One new rule I added during my day as Principal was to give everyone a second recess in the afternoon.
The hardest part about being a principal is keeping track of what you have to do. The best part is that you get to see all the kids in the morning and say "hi" and help them.
Sincerely,
Principal Dunton
The Final Week of School:
It is hard to believe that we are in the final days of the school year! There are a few important items to note for this final week:
– Marvelous Mornings are now finished for the year.
– Our Talent Show will be on Thursday, June 27 starting at 9:40 am -11:00 am. Parents/Guardians are welcome to attend!
– Tuesday, June 25: Grade 5 Farewell Assembly 1:00 pm
– Dismissal on the final day of school, Thursday, June 27, is at 11:36 am.
Lost and Found:
Our lost and found is overflowing! We will be laying out the items in the hallways for students to collect up any lost items prior to the summer. Please pop by and take a look. All items left at school will be donated to Good Will, as of July 2.
Final Report Cards:
Final report cards will be issued through MyEd on June 27. We encourage you to log on to your MYEDBC Family Portal before the report cards go out at the end of the month to check that everything is OK with your account.  Once logged in, please make sure you have access to every one of your student's information who are currently attending a Langley School District school.
Please see the attachment for Family Portal tips.SD35 Family Portal (Poster-Final Report)
*Important information to know for parents: Link for assistance with Family Portals:https://www.sd35.bc.ca/students-parents/myedbc-family-portal-help/
Thank You!
We wanted to say a huge THANK YOU to all the parent and student volunteers who have assisted with the Breakfast Club throughout the year. Special thanks to Marg, Jon and Natasha for their work to organize, prepare and coordinate the meals and volunteers to offer this amazing program to our James Hill Community! A healthy breakfast is such an important part to a successful morning, and we also love how many families come to enjoy a meal together before the work begins.  We are so grateful to all the people who make this available at our school!!
Also, we want to send out a sincere THANK YOU to our PAC parents for your endless hours of work and support to make so many special events happen at James Hill throughout the year. From the Kindergarten Playdate in September to Fun Night to Sports Day in June, the PAC parents make a HUGE difference in our school by fundraising to support student learning and fostering opportunities to enjoy a positive and joyful school community. We appreciate all you do for JHE!!!!
School Supplies:
It is that time of year again that we starting thinking about next year.
Below this memo are the instructions on how to order your School Supplies for your child's next year's grade (also sent out via email this past week).  The list has been chosen by our teachers and put together as a package from Staples,  the company we use to order our supplies.
This is an online ordering form with a specific code for each grade.  There are two options for kits.  Option 1 has no headphones and Option 2 has headphones.  You may choose the kit you  like.  If you have headphones at home you may send those to school in the Fall with your child.  Please use your child's name when filling out the online form so we know who to give the kit to in September.  (with parents/children with different last names it can be tricky). Thank you.
You may also go into the store to pay if you wish.  Please take the attached letter to the store  to be sure your child's supplies arrive with the other kits.
In September your child will receive duo-tangs from their teacher and the payment will be made through School Cash Online.   (We order in bulk and we, as teachers, like the students to have the same coloured duo-tangs as it makes it easier for organizing our subjects).
DEADLINE to order is JULY 5th 2019.
SchoolToolsDearParentsLetter Grade 1
SchoolToolsDearParentsLetter Grade 2
SchoolToolsDearParentsLetter Grade 3
SchoolToolsDearParentsLetter Grade 4
SchoolToolsDearParentsLetter Grade 5
PAC News and Updates:
Thank you to all the PAC members, committees and parents that helped at any time this past school year.  The PAC could not have done it without you all.  
Earlier this month we had our annual PAC AGM and some positions were filled however some are also vacant.  Below is a list of next years PAC positions and who they belong to as well as what positions are vacant.  
President:  Kristi Mackinnon 
Vice President:  Lindsay Gallichen 
Treasurer:  Shonna Caines
Secretary:  Kaeli Seward
Fundraising:  VACANT (very important role that we need to fill)
Hot Lunch:  Michelle Vipond and Amanda Gresham 
Fruit and Veggie:  Kathryn Croutch
Popcorn:  Kathryn Croutch
Sunshine:  Gina Twellman
Emergency preparedness:  VACANT 
Kilometre Club:  Montanna Robertson and Carolyn McCaughan
DPAC Rep:  Chantale Hubbs 
Breakfast program coordinator:  Chantale Hubbs
Volunteer Coordinator:  VACANT
Caring committee:  Lindsay Gallichen 
We would like to thank Christina Fraser and Deb Patchett for several years on the James Hill PAC! Both have had major roles on our PAC and we just can't thank them enough. We would not have had the success if it wasn't for them.  
If you are interested in any of the vacant positions, please email jameshillpac@gmail.com
District Reminders:
Buses for September:
Transportation Registration for the  September 2019-2020 school year has been opened and located at https://www.sd35.bc.ca/schools/transportation/  .  If you qualify and require this service please ensure you register before the June 28th Deadline.
The deadline of June 28th  ensures that the Transportation Administration can meet the requirements of the Commercial Vehicle Safety Enforcement Branch for the September startup.
Transportations' web-page includes the following information: https://www.sd35.bc.ca/schools/transportation/
New Changes to Online Registration
Links for both Non-international students and International students
Details regarding completing the registration via Cash-on-line (step-by-step instructions included)
Policy 3850 Information – includes walk limits
Email and phone information
Homestay email link for International refund requests.
If you miss the registration deadline please plan to drive your child(ren), for the first three weeks of the 2019-2020 school year, while routes are manually established for the late registrations.
Have a wonderful week!
Mrs. Kendra Simonetto