September 28, 2018
Good Afternoon, James Hill Families,
We had yet another fabulous week at James Hill Elementary! With this beautiful Fall weather, parent helpers were able to run KM Club twice this week! Our Cross Country team had a practice and a race on Wednesday. The students are working hard in their classrooms everyday! Throughout the week we enhanced our learning about Orange Shirt day, which we honoured in a ceremony on Friday. Ms. Maphoso, our Aboriginal Support Worker, went into classrooms to share a read-aloud story to the children about life in Residential Schools. Teachers did a variety of activities around the story behind Orange Shirt Day and the work being done towards Truth and Reconciliation, including sharing stories, reflective writing activities and artwork, such as these beautiful pieces from Miss Ford
's class and Mrs. Johnson's class!
We also saw leadership in action this week! Grade four and five students are really stepping up to be leaders in our school and we are enjoying watching them be role models for our primary students. Some student leaders even read aloud to the children and families in our StrongStart Program. Way to go!
As I went into classrooms this week, I saw lots of amazing learning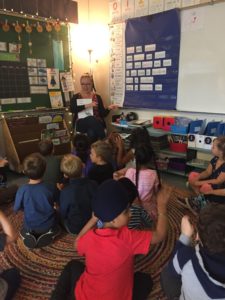 taking place. Ms. Baird's Kindergartens were working on their letter recognition and sounds, not only singing the song together but also including sign language letters!  In Ms. Anderson's class, students were collaborating to find their 'thin' and 'thick' questions when learning about First Nations communities around BC. In Mrs. Hobb's and Mrs. Johnson's classes, students worked together with the buddies to do interviews with each other. It was a terrific week of learning!
Parking Lot and Road Safety:
You may have noticed some changes in our drop off area recently. We have put out cones to mark off the designated bus drop-off area. It is important to keep this zone free for the bus so that traffic can continue to flow through the parking lot when the bus is picking up or dropping off students.
We all want to ensure the safety of all of our students. Here are a couple of friendly reminders:
– Please do not exit your vehicle in the right drop-off lane in front of the school. This lane is reserved for flow-through traffic, drivers are required to remain in the car in order to pull as far front in the lane as possible before allowing your children to exit your vehicle. This helps prevent a bottle-neck or overflow into the street.
–Please use the crosswalks when crossing Old Yale Road in front of the school.
–Please use extreme caution when crossing the drive-thru/drop-off lanes to and from the school.
Thank you for your continued commitment and cooperation in keeping our children safe!
Students & Busing:
Parents are reminded that all students riding District buses must be registered via the District's online registration system at www.sd35.bc.ca/schools/transportation/ by October 1st.  If you are having registration challenges, please contact the Transportation Department at 778-736-0792.
Upcoming Dates to Note:
Friday, October 5: Non-Instructional Day: students do not attend
Monday, October 8: Thanksgiving Holiday: no school
Friday, October 12: Hot Lunch
Other Notices:
Please read this letter from our Superintendent, Gord Stewart, regarding upcoming FSA's:
Have a wonderful, restful weekend!
Mrs. K. Simonetto, Principal