June 28, 2020
Dear James Hill Families,
It is with great disbelief I write our final newsletter of the 2019-20 school year. This year was unlike any other and taught all of us so much about patience, compassion, kindness and community. Through the most difficult days, we were able to pull together to support one another.
I want to thank all parents and guardians for your support this year. You have always been such an essential part of our James Hill Family, but this year we counted on your support in a whole new way at home during remote learning. I know that this posed new and unexpected challenges to you and your family. We could not have gotten through the past 3 months without all of YOU! Thank you.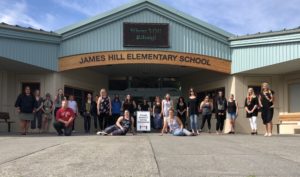 I do want to take a moment, as well, to express my appreciation and gratitude to our entire JHE staff. They did an incredible job creating and designing a new version of education as we know it. From the earliest days when James Hill was one of just 5 ESW learning hubs in the district during the suspension of in-school instruction, to the start up of remote learning and creating instruction and assessments for online platforms in April, to packaging up student materials for pick-up in May, to the return of in-school learning on June 1, staff have worked together endlessly to support our families and students. Alongside this important work, we have also hosted a whole-school car party parade, a Welcome to Kindergarten parade, a drive-thru retirement party and 4 mini grade 5 farewells. This entire time, staff worked to ensure safety was at the forefront while continuing to stay connected with families and to ensuring that our JHE community stuck together. I am so proud of their hard work!
This past week, we also said farewell to our JHE grade five students. We wish all our grade fives all the best as you venture on to grade six and middle school! You hope you will come back and visit. You will always belong here! To view Mrs. Simonetto's message to grade fives, you can view it here: https://youtu.be/rtxhuSfR37Q
We do, sadly, have to say goodbye to several staff. We wish them all the best successes as they head off on various paths. Thank you for your hard work and dedication to kids at James Hill. You will all be missed! We say "until we meet again" to:
Ms. Dhillon (SEA)
Ms. Rhodes (Speech & Language Pathologist)
Mr. Steeves (music teacher)
Ms. Boorman (grade 2 teacher) & Mrs. Rogers (Ms. Boorman's teaching replacement in term 3)
Ms. Clayton (grade 2/3 teacher)
Miss Ford (grade 1 teacher)
Mrs. Vleeming (grade 4 teacher)
Mrs. Reavley (resource) will be going on maternity leave in August. Congrats on baby #3!
Mrs. Hobbs (grade 2 teacher) has decided to retire. Mrs. Hobbs has been a valued part of the
JHE family for over 2 decades. Her care and compassion for kids and families will always be remembered. She has always been known for how she went above and beyond for all of her students. Mrs. Hobbs could be counted on to have a smiling face and a kind word every time you saw her. She took care of all of us at JHE. She will be so missed. We wish her all the best and hope she has a wonderful and enjoyable retirement.
We do hope that all our families are able to relax and unwind this summer. While we still wait to see what exactly September will hold for schools, we hope that you are able to focus on family and friends over the next two months, enjoy the outdoors, read everyday and make wonderful memories. We will miss you all and look forward to a time we can all reunite again!
Stay safe and enjoy your summer!
Mrs. Simonetto
District Updates:
Please see the most recent update from Superintendent Gord Stewart regarding the year-end an looking ahead to September.
COVID19 Information Bulletin 2020Jun25
Langley Youth Creative Design Showcase
The Langley Children's Committee invited Langley Youth to share a creative design project on substance use. We asked them to show us, through their eyes, how substances affected them, someone they love or the larger world around them.
These youth were selected to be part of a Langley showcase and each won prizes for their efforts. The original plan was to host a large public gallery showcase, but alas…Covid-19, so this is their "for now" showcase.
Please enjoy this powerful slideshow of their artwork: