April 17, 2017
Families of James Hill,
I hope you have had a wonderful Easter weekend with even some chances to take in a little bit of sunshine! 
I am excited to share our new Mission with you. This guides the direction of our professional learning and all that we do at James Hill!
At James Hill, we will work together as a community to:
Create the conditions for students to become respectful, responsible and caring citizens;
Foster a positive learning environment that encourages critical and creative thinking;
Inspire and guide students to fully develop their whole person, leaving our school as confident and capable learners.
We once again have so many great things to share in this newsletter… enjoy!
Good Things to Talk About
Happy Easter! There was no shortage of Easter crafts and excitement at our school on Thursday. We hope you had a wonderful long weekend with your friends and families.
Club Mondays – As was sent out on Thursday, we are so excited to offer our students a chance to explore who they are through a number of different activities on Monday afternoons. Forms need to be completed by Wednesday. If you need another copy, you can download it here.
Tennis for Everyone! –For the past few weeks, we have had TennisXL come and work with our students on developing introductory tennis skills. It was great to see such a steep learning curve with many of our students. As it gets nicer outside, be sure to head out and play on the court at Denny Ross Park!
Div 1  – Writing From A Picture Prompt – Students in Division 1 have been working on descriptive writing and recently chose a picture (random) and had to meet up with their group, brainstorm descriptive words, rank these words and then share their top descriptive words for the image they were given.  Students have also been exploring the use of technology to capture and share info and stories. They were recently given the challenge to create a "how-to" video on a skill through iMovie or BookCreator.
Div 2 –  Thinking Before They Write– Mr. Maines students understand that the best way to write is to actually think about what you are going to write BEFORE you write. For a writing topic on the great aspects of living in Langley, students used the Inspiration program to gather and organize their ideas before starting their first few drafts.  With Miss Kondo, students were recently given a design challenge to make a device that uses simple and compound machines made out of only recycled materials.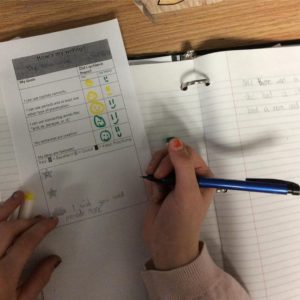 Div 3 –  Embracing the Power of Self-Assessment – to help with writing in Miss Robb's class, students have been discussing criteria of effective writing and then learning how to self-assess their writing based on this criteria. Peers have also been helping other with assessment of writing. We want our students to develop skills in self-assessment in all aspects of their learning so this is one great way to use it to benefit their writing and also the assessment process.  Students have also shared their curiosity with their Wonder Wall on display outside their classroom.
Div 4 – Walk n Write – For their Health education, Ms Clayton focused the lessons on "self-identity." Students identified personal attributes/strengths and thought about what factors influence self-identity, such as media, cultural heritage, interests, and peers.  They then participated in a "walk and write" activity where they wrote on each other's papers what occupations they would be good at, based on each other's personal strengths. It was a very powerful activity for all the learners!
Div 5 – Use the Force – Miss Anderson gave her students the challenge of moving a ball to another student using a variety of different methods to show their learning about forces in science. Students have also created some beautiful artwork with Mrs Takasaki in the theme of BC artist Roy Henry Vickers. Check out their work on display in the hallway.
Div 6 – Learning About Theo LeSieg???  You might be asking… who??? Well, Mrs. Kazakoff's students can tell you that it is a pen name for books that Dr. Seuss wrote and others illustrated. Students have been reading, doing art, and learning in the theme of Dr. Seuss… er "Theo LeSeig".   Students also recently had a chance to share their learning of the layers of the Earth with their plasticine models they created; they had to go home with them to cut them open to share their learning with their families.
Div 7 – Release Party – Mrs Hobbs' students travelled to Nicomekl Creek last week for their big release party of their salmon. Students have learned all about the salmon life cycle and watched them grow through all the stages as part of the Salmon Enhancement Project.  Mrs Hobbs has also let us know that a community salmon release is happening on Saturday, April 29 at the hatchery on 5263-232 St. from 11am-2:00 pm.  Students have also been learning about the different food groups and how food choice is important for a healthy lifestyle.
Div 8 – Curiosity, Creativity, and Passion – Miss Maki's students were given a few afternoons to explore their creative and curious sides while also tapping into their strengths and interests with "Passion Projects". Students were placed in groups of similar interests and given time to create in areas such as sewing, cardboard design, and art.  Students also had a chance to show their creative thinking through the use of iMovie trailers. If you are on Facebook, you can watch one of their trailers, "Scary Monsters", here.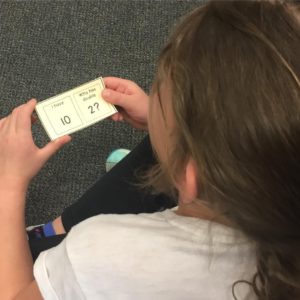 Div 9 – Joy in Numbers – Mrs. Peck's students were showcasing their number sense and group participation recently as they played a game together that involved all the students and skills like doubling, addition, and other numeracy skills. Students were each given a card that had their number on it and a math question that lead to someone else's number. Every child had the chance to be included in this game.  Cultural presenter, Carman McKay, also recently came to the class to share his wisdom in the areas of drumming and story-telling.
Div 10 – We are FAMILY!  "Family" has been the theme in Mrs Ekkert's class these past few weeks as students explored what family means to them and what different families can look and feel like.  They also used this theme in math as they explored more number families. Students have been able to share their learning and creativity through the use of puppets in the classroom as well.
Div 11 – Bunny Puppet Creativity– Students in Ms Juzkow's class had a chance to explore their creative sides as they made and explored the use of puppets. The little bunny puppets gave students a chance to work on skills in the areas of creative thinking and story-telling.
Div 12 – Literacy Everywhere!– One of the goals of classrooms today is to have a literacy-rich environment. Students in Ms. McColl's class have plenty of opportunities to read and write in the many literacy centres in their classrooms. From names to shopping lists to journals and word/letter games, students learn the importance and joy of writing.
Div 13 – Easter Fun – Students in Miss Jackson's class have made some creative artwork recently as they used an egg to roll paint on to a paper, created their own egg hatch art, and went on an Easter hunt through the school.  Students also took a memorable trip to Science World!
Support Services – Squeeze Machine – We have a new tool to help students with self-regulation. One technique that is well-documented to help with calming bodies is deep pressure. We now have a machine that students can use on their sensory/calming breaks that they roll through to provide some deep pressure to help relax muscles and calm the body. Some students call it the "human printer". 🙂
Aboriginal Education Program – Pride in Who We Are –  The main role of our Aboriginal Support Worker, Ms Bonnie, is to help students understand and take pride in their identity and culture. It has been truly wonderful to see students develop in this area as they often share their learning with me and so many others in the school.
StrongStart – Exploring Plants – Families travelled to Cedar Rim Nursery recently to learn more about plant growth. StrongStart is a free program open each school day from 1-4pm for families with children aged 0-5.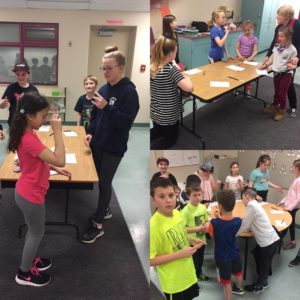 Sign Language Club – Our hearing support teacher, with the support of one of our grade 5 students, has started a Sign Language Club on Tuesdays at lunch. The room was full of keen learners last week in their first session. The club is open to all students in grades 4-5.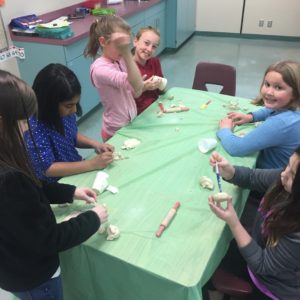 Art Club – Mrs. Reavley continues the art club on Wednesdays at lunch, open to students in grades 3-5.

Fire Safety House – Students in grades 1-3 had a chance to learn fire safety from Township of Langley Firefighters in their Fire Safety House.
Knights' Athletics –  Basketball continues with Mr. Sheaff on Thursdays and Fridays at lunch. Grade 4/5 girls practice on Thursdays and the boys go on Fridays. All are welcome.
Information and Updates:
April Showers… We have had no shortage of rain this year. To be ready to learn, our kids need a chance to be outside so unless it is an absolute downpour, they will be heading outside for recess and lunch. Please make sure they have coats and boots (and extra clothes in their backpack).
Breakfast Program – Our breakfast program continues to be a huge success as we build community and start our students off with a healthy meal. We have added a page to our website that shows our important sponsors that have helped get us started: McGill Realty, Southridge Fellowship, Langley School District Foundation, Farm Canada, TD Canada Trust, Aldergrove Credit Union, and RBC.  There is also more information, including a video, on the website. The program serves food between 8-8:30 each morning. Thank you, again, to all our volunteers!
Fun Night – We are less than two weeks away from Fun Night! This awesome event requires many volunteers and we are still in need of spots to be filled. Click here to see if you can help out in any way.  We also have a Hidden Treasures sale that is in need of donations. If you have used items that are still in good shape that you think someone would like to buy, please drop off in front of the PAC office. A reminder to please hand in your Jam-a-Jar items, pizza order forms and silent auctions order forms by Friday.
Class and Group Photos – Smile! Class photos will be taken this Friday, April 21.
Hanging Baskets – Only a few more days to get you Clearview Nursery orders in! Take advantage of the chance to purchase beautiful hanging baskets (a perfect Mother's Day gift!) and support your child's school at the same time. James Hill receives $7.00 from EACH basket purchased. All orders must be paid for (cash/cheque) by April 19th. Once all orders are in, you will receive your coupon(s) to take to Clearview Nursery to pick out your basket(s). The PAC thanks you for your support!
Ruben's Shoes – Thank you so much to all those who brought in shoes to support this program that helps send kids to school in the Dominican Republic. We donated over 2 large boxes full of shoes.
Parking – One of the biggest concerns we have for student safety happens in and around our parking lot. To help keep our students safe, please see the map below for parking spots.
Please avoid parking in the

drop off zone

directly in front of the school. When people park in this area in the morning, there is no drop off zone, so parents must drop their children off near moving vehicles.
Please do not enter the

bus zone

. We have students with special needs that are dropped off by parents and buses and we need this clear at all times.
Please avoid parking in

stalls labeled "staff"

. We have staff members that start their shifts (and coming and going) at all times during the day so just because a staff parking spot is open does not mean that it is available for public parking.
Please avoid parking

near the exit

of the parking lot as this make visibility very difficult and this is where many of our families walk along the sidewalk.
Do not park over or

near crosswalks and stop signs

(on side streets) as this, again, makes visibility a challenge for vehicles and pedestrians.
The important thing to remember that one person disregarding these guidelines leads to more people doing the same thing and creates an unsafe parking lot.
Growth Point Learning Centre – Preschool, Day Care, and Before/After School Care – GPLC is taking registrations now for preschool, daycare and in the before and after school care programs. Check out their website for more info.
Want Important James Hill Updates and Reminders Via Text Messages?  If you are like me, I receive a ton of emails each day and often emails get lost or pushed down my inbox. We will continue to send emails each week but if you would like additional reminders about important events (ex. photo day, early dismissal, etc), you can sign up for Remind text messages by clicking here on your computer or by texting @jhill to 646-480-7189 (standard text message rates apply) with your phone.
Upcoming Events:
This Week:
Luv2Groove Dance Workshops are here Tuesday so all students will get 30-40 minutes in a dance workshop
Club Monday forms must be in by Wednesday.
We have our monthly assembly this Thursday at 2pm.
Hot lunch this Friday (A&W)
Items for Hidden Treasurs, Jam-a-Jars can be brought in until Friday. Order forms for pizza and silent auction must be in by Friday.
Class and Group Photos this Friday.
Calendar for 2016-2017 – Click here to download and print.
Video of the Week: A video by LukeDandurand that shows a personal lens to the impact of Residential Schools.
Community Events:
Click on the district link here to view opportunities in Langley such as:
Car Show
Parenting workshops
Science Fair and Celebration
Celebrating single moms
Activities at Langley Museum
Young entrepreneur programs
Chess for kids
Early learning opportunities
Athletic opportunities
Acting, Music, and Visual Arts opportunities
Tutoring
and more!