April 22, 2018
Families of James Hill,
Here are some Good Things to Talk About followed by some updates and reminders in the Week Ahead. Thank you to Ms Twellmann for her efforts in creating the awesome board for Identity Day (pictured)!!!
Good Things to Talk About
Proud of Who We Are!  All students and staff showcased a strength, interest or a little bit about themselves in our first ever Identity Day! It was so great to see the students so proud of themselves; an additional benefit to this day was that new connections were made based on common strengths and interests. Thank you to all the students, staff, and families who helped make out first ID Day a success!
Teamwork! Ms McColl's students have been working on learning to work as a team and learning to share materials and ideas…. skills that are needed throughout our lives. The boys pictured worked very cooperatively together to construct a building with a bridge so that people could use the bridge come to a meeting!
Thinking About Salmon: Mrs Hobbs students are getting excited to see their little "fry friends" swimming and flipping around in the tank in their class. To help bring thinking to the forefront, students participated in a See-Think-Wonder routine based on observations of the salmon. They keyed in on the "wonder" portion and then partnered up to share and discuss.
Getting Some D: Students in Mrs Johnson's class have been reading "The City of Ember" and decided to head outside to move deeper into their learning about Vitamin D…. while embracing the sunshine outside (and getting a little Vitamin D of their own!).
Track Attack: One of our valued coaches at our school, Mr Sheaff, started track practices this past week with some running and relay events with grade 3s. This week, Mr Sheaff invites all interested grade 3-5 students out at lunch to practice running and relays.
All Grown Up: Miss Baird's students have been watching their bean growth closely. When I popped in there this past week, the students were writing their observations in their journals and including scientific drawings and labels.
Look at Those Cute Little Fishies: Ms Clayton's students drew some cute little fishies in art… but wait… when they opened up their papers, these cute little things turn into vicious sea creatures! The students were pretty excited about their Kinetic Art!
You Spin Me Right Round…: Mr Graber's students were learning and chatting about the earth's rotation and revolution… including what causes it and what it causes.
Embracing the Entrepreneurial Spirit: Miss Ford's class started their Power Play projects last week. Next month, students have the goal of selling products that they create, market, and sell to our community. During the program, students learn about goal setting, creativity, teamwork, marketing, and sales. Stay tuned for more info…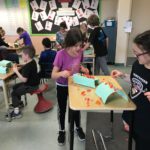 The Shape of Strength: Mrs Kazakoff's students learned about the strengths of various shapes last week… and then tested their theory by comparing the amount a squared object could hold versus an object with an arch. They also embraced Earth Day by reading the Lorax and reflecting and talking about ways they could each take better care of the earth.
The Sounds in the Forest: A few people had a pleasant surprise as they walked on the path of our back field last week. Mr Steeves decided to embrace the nice weather and take the choir out to the forest to sing and prepare for their upcoming music festival. The students may not have expected it but found themselves a small crowd of people stopping to take in their wonderful singing.  Short clip of this was posted on Instagram/Facebook so check it out there.
Appreciating Ms Bridgen: Mrs Peck's class took a moment to express gratitude to our dedicated admin assistant, Ms Bridgen last week. Each student wrote a note of appreciation and they put them all in a booklet to give to her. She does so much work behind the scenes and it was great to have the kids say thank you!
Scrubbing In for Literacy: Mrs Reavley's students had a very important task to complete last week… so important that they needed to wear masks and scrub in! Students had to dissect the features of texts from books, cut out examples, and place them on the needed bodies. When I came into the room, there was some serious learning happening! 🙂
The Week Ahead
New Principal for Monday: The school will have a new principal filling in on Monday… Keith B will be Principal for the Day! Depending on how things go, I am hoping to be back to being principal on Tuesday. 😉
KM Club is Back! Join us Tuesday and Thursday on the back field after school for a little jog around the field for our KM Club! Weather permitting, KM Club will be each Tuesday and Thursday from 2:45-3:00.
Daffodil Fundraiser: A group of grade 4/5 students have come together with Ms Edwards to run a fundraiser for the Canadian Cancer Society. On Wednesday, April 25, students will be selling Daffodil pins for $2 each or $5 for enough for a family. They will also be selling real daffodils for $5 with all proceeds going to the Canadian Cancer Society.
HDSMS Visits our 5s: The admin and counselling team from HD Stafford Middle will be coming to meet wih our grade 5s on Wednesday afternoon.
Track: As stated above, Mr Sheaff welcomes all interested runners to come and practice M/W/F at lunch. Please note that our School Track Meet ((grades 3-5) will be on May 16 and the Regional Track Meet (for those who qualify) will be on May 30 at LSS.  
Have a great week!
C. Wejr