April 15, 2018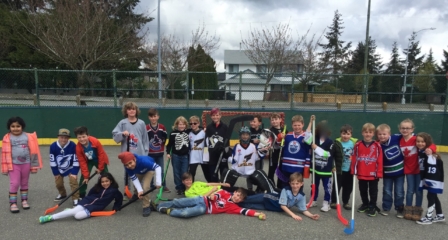 Families of James Hill,
Here are some Good Things to Talk About as well as a few reminders and updates in the Week Ahead.
11 Good Things to Talk About
1. One More Sleep!  Students have been putting the final touches on their projects as they prepare for our first ever Identity Day tomorrow (Monday). The schedule of when students share their projects can be found here.  Thank you for all your home support with this!
2. The Return of the Bike – The school was swarmed with bikes again this year as our grades 3-5 students took part in Cycling BC's iRide Program. Students learned and enhanced their cycling skills while getting some great exercise in the rain and sunshine. Thank you to the PAC for their support of this program and for Mrs Lambert for bringing them in.
3. A Very Real 'Escape Room' Exercise – The Township of Langley Firefighters brought in their Fire Safety House and taught our grade 1 and 2 students how to safely evacuate in a fire.  It is a good reminder to make sure your family knows what to do in a fire too.
4. Thinking About 'Mercy' – Mrs Hobbs' class has been reading a chapter book in class called "Mercy Watson". It's about a pig named Mercy and last week they used the thinking routine called See, Think, Wonder with one of the pictures within the book. This routine helps students slow down, notice what they observe, think about it, make connections, and lead into inquiry.  Miss Anderson also used the STW thinking routine with her library students as they used a video of a gorilla to engage the students before reading the story of Ivan, the Shopping Mall Gorilla. 
5. Taking Shape – Mrs Kazakoff's students used the Book Creator app on the iPads for math as they snapped photos, labeled them, and described the various 2D and 3D shapes in the room.
6. 'Claymate' Writing – Mrs Brooks' class is reading the Langley Book of the Year nominee, Claymates. Inspired by this book, the students made their own clay characters, took a photo of them on their laptops and then used the platform Write About to create a story of their characters.
7. #JerseysforHumboldt – Many students and staff in the school participated in the "Jerseys for Humboldt" day on Thursday as a way to send some love to a town devastated by an accident. The idea for this day was started by 2 moms in Langley and spread throughout the world (even all the way to Uganda).
8. Are YOU Talking to ME? Mrs Coffin's students had our tech coach, Mrs Baxfield, come in and teach our students how to use the app, Chatterpix. This app can make inanimate objects talk! Students spent some time getting the creative juices flowing as they found objects to use to speak and then thought up some interesting lines for them to say!
9. Our Own Printers – Ms Atwal's students recently had Langley Secondary School Fine Arts teachers, Mrs. Piorecky, come and help them learn how to create their own prints. Students designed the surface based on a Spirit Animal, rolled it, and created some wonderful pieces of artwork on display outside their classroom.
10. Rising to the Challenge – Mr Graber's students are really starting to get into the little challenges he gives them when they are finished their work. Each time I come in there when they are doing these activities, they are enthusiastically thinking and collaborating with each other to get that final answer.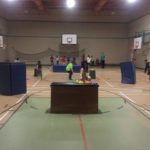 11. Mission Possible?  Ms Clayton's students were having an absolute blast in the gym this week as they played "Mission Impossible". The students have to duck and crawl to get behind various shields so they are not seen with the goal of getting all the cones back to the home base. Their is one person at the front that can send them back to their base without a cone if they see them. One more thing… the lights are out and the only light is a small flashlight in the middle. (I snapped the photo with the lights on)
The Week Ahead
Monday is Identity Day! The schedule is linked in the #1 section above.
A reminder that we do head outside in the rain for recess and lunch. Please make sure your child has boots and a rain jacket.
There is a parent/caregiver information meeting at HD Stafford On Wednesday (5:30pm) for families of grade 5 students.
Hot lunch is this Friday with Hot Dogs and Booster Juice.
Our informal lunchtime track practices will be starting soon (once the weather improves). Mr Sheaff (a grandparent volunteer) will likely start practicing relays in the gym… stay tuned.
Have a great week!
C. Wejr
Principal