December 22, 2017
Families of James Hill,
Well, we can soon move the calendar to another year and can look back with pride on all the growth we have accomplished together as a community!  On behalf of all of the James Hill Community, I want to wish you a lovely holiday filled with memorable moments shared with family and friends.
Before you take off, I hope you can enjoy the latest edition of 10 (actually 17 for the final edition of '17) Good Things to Talk About!
1. Supporting our Community – You have made us proud once again, James Hill! Through your generosity, we were able to provide some wonderful gifts, food, and gift cards to 9 families that have been working so hard but needed a boost this Christmas. You have brightened the days of kids and adults at James Hill!
2. Spreading Christmas Cheer – Mrs Johnson and the Langley Hospice have a special,
personal relationship and this was tapped into this week as her students walked there to sing carols and read to residents. It was another beautiful moment for students and for our community.
3. A Holiday Tradition  Each year, a few James Hill families have tables decorated with a beautiful live centrepiece made by students and families in Mrs Hobbs class. This week, families were in to support the students in making these wonderful decorative pieces.
4. A Soft Landing for Santa  Ever wondered what would happen if Santa had to land going straight down? How would he land softly? Students in Mrs. Coffin and Mrs Gill's class were given the challenges of creating a parachute for Santa using coffee filters, plastic bags, string, a cup, and tape. There were some that helped Santa land very safely and softly… while others may have left him with some minor and some serious injuries! There were some very creative designs with plenty of learning as part of the design process.
5. Hockey Day at James Hill Students, grab your sticks and knee pads! Students in Mr. Graber's class took PE class to their classroom as they made it into a knee hockey rink and participated in their own tournament. The goalies had sticks, the players used their hands, and all wore knee pads and a competitive smile.
6. A Breakfast Celebration – We are so proud and thankful for the volunteers and sponsors that make our Breakfast Program such an important success for our school. To celebrate, Mrs Deibert, Mrs Vinson and their team cooked up some yummy crepes (with no limits for kids!) and invited in one of our new volunteers, Mark, to play guitar and sing carols on the final school day of 2017. A special thank you to Aldergrove Credit Union (with locations in Otter and Aldergrove) who recently donated $1000 to our program!!!
7. Showcasing Personalized Learning – This year, we have four grade 4/5 classes. The grade 5 curriculum includes French while the grade 4 curriculum does not. While the grade 5 students are learning to parlez en francais, Mrs Atwal and Mrs Johnson have been working with the grade 4s on their own Passion Projects. Students first made a wonder wall with some of their curiosities and then decided the topic in which they wanted to dive more deeply. I was able to see a few of these awesome projects which included topics such as scooters, the history of Mario, how chameleons change colour, how basketball statistics are calculated, how soccer balls are made, how gum works, building a house for squirrels, and how to extract DNA!
8. A Traditional Christmas – Students in Mrs Hobbs' and Mrs Johnson's classes went back in time to a Christmas in the 20s and 30s as they spent the day at the Burnaby Village Museum. They were able to see shops, a printing press, steam engines, a trolley, and a schoolhouse all from that era.  They also had a chance to ride an original Carousel!
9. Songs to Send Us Off  Ms Clayton has developed her own tradition of "spreading Christmas cheer by singing loud for all to hear" as she brought in her guitar again this year and led her students, along with Mrs Peck's students, in singing Christmas Carols around the school. There are few things that get people smiling more than children singing! (a clip of Frosty the Snowman is below – thank you Mrs Benson for the video)
10. DE-FENCE! All students enjoyed Mr Rahn and Mr Diel, From Rahn's Black Belt Academy, as guests in our school for PE the past few weeks. They taught self-defence, focusing on physical and social skills, that will help them stand up for themselves physically and socially.
11. Getting Them Thinking Miss Anderson's students combined 2 thinking routines – "chalk talk" and "see-think-wonder" this week as they used pictures from the book, The Arrival, by Shaun Tan to drive thinking in social studies. Pictures The that describe a man (and his reasons for) immigrating to a new country were placed all around the room. Students did not know the story so they asked questions (in writing) and posed predictions while building on the ideas of others. All this without talking!
12. Crafty Lil Students  Our school was full of Christmas crafts this week. From a variety of craft decorations to baking cookies, Christmas crafts, making edible Christmas trees, to painting ornaments, students had a blast creating art that could be eaten or put on display in their homes for Christmas.
13. Family Gingerbread Houses – Students in Mrs Peck's class were joined by a few parents and family members as they worked together to make a gingerbread house in a them of interest for them. Some great family moments were experienced and we are thankful to all those parents/family members that could come in.
14. A Festive Movie to Finish Off the Year – Students had the chance to gather and enjoy a holiday movie together in the gym today. Our grades 3-5s watched Polar Express while our K-2 students watched Santa Buddies. This gave our students a chance to connect with peers while also providing the teachers some time to get their classrooms organized after the craft craziness of this week!
15. Reindeer Games  Students in Miss Baird's class played reindeer ring toss, pin the nose on rudolph, stuff the stocking, and many other reindeer games this week to add a little festive fun for the students. Even the parents came in and helped with the games… and even wore some special reindeer antlers.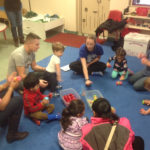 16. The Joy of Music Our StrongStart families were able to experienc the joy of learning about music through the KinderMusik program. The instructor came in and encouraged play while learning about rhythm, sound, and dance!  Moms, Dads, and Granparents were all dancing with their children in StrongStart!
17. Our House…  On Wednesday, for a Christmas treat, Ms. Juzkow and Ms McColl's classes  built "gingerbread houses "with graham crackers and royal icing. Students decorated them with lots of candy goodies and may have indulged in a bit of sugar along the way! Thanks to the many parents who joined in to help . 
School re-opens on Monday, January 8. Merry Christmas and see you in the new year!
Please support the Firefighter Candy Cane Walk