March 17, 2018
Families of James Hill,
On behalf of the staff, I want to wish you all a wonderful Spring Break! I hope you get some time for exploration, play, and adventure (and family snuggles) with friends and family. Thank you to staff for their efforts and preparation for the student-led and parent-teacher conferences this past week… and thank you to all those families who came out!
A reminder that schools re-open on Wednesday, April 4.
I am apparently very stubborn and refuse to change the name of "10 Good Things" so here are 10 16 Good Things to Talk About with friends and family this break.
1. Beach Day – Students wore their flip flops, Hawaiin colours, shades, shorts, towels, and even floaties to school for our pre-spring break beach day! Some classrooms even had a beach day theme that involved reading in the sun, beach umbrella reading, and beach-themed writing.
2. So It's Edible?!?! Division 1 travelled to to Campbell Valley Park to be led by elder, and cultural presenter, Karen Gabriel . They walked through the park exploring various plant types and learned what is edible, what is poisonous, and the various uses of plants. Ask the students to point out some plants the next time you are out.
3. Catching Leprechauns – Students in Mrs Hobbs and Mrs Johnson's class buddied up to design and create their own leprechaun traps! They used a box along with ladders, gold, and other ideas to trap their little friends. Mrs Reavley's student also worked together to create their own traps. Some awesome designs were on display in the hallways!
4. Get Cracking With Learning! Mrs Johnson and Miss Ford's classes had a friendly competition to see who could design the safest egg carrier. Students worked in partners and created their own carriers and then had to go through testing at 3 different levels… a chair, the top of the bleachers… and then the top of the gym! Miss Ford's class came away with the win as they had 4 students whose eggs survived the fall from the gym (while Mrs Johnson's class had one whose egg survived).
5. Names Coming At You! Mr Graber's students have been thoroughly enjoying their art pieces that have helped them learn the skills of perspective and 3-Dimensional art. They decided to update their name tags on their desks using these skills. On Beach Day, the students decided to head outside and find a warm place to read in the sun… I love seeing students' love of reading!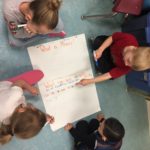 6. Money, Money, Monet! Instead of simply teaching about coins and bills, Mrs Peck focused on the financial literacy (understanding) of the concept of money. She posed 2 questions to groups of students: What is money? What can you do with money?  I loved observing the students as they debated and built off of each others' ideas… a great thinking activity! The talked about spending, buying, selling… and even saving! For art, the students read a story based on the work of Claude Monet and then did some beautiful pieces inspired by his Water Lilies. Check them out on display outside the classroom.
7. Traditional Tools – Cultural presenter and Kwantlen Elder, Karen Gabriel, was in to work with Mrs Brooks' students on various traditional Sto:lo tools. The students not only learned about them but got to make their own tools that resembled those used for digging, fishing, and drilling.
8. Passion Project Supporting BC Childrens Hospital – Some of our students have been working on passion projects with their teachers this year. A Grade 5 student in Mrs. Atwal's class has been busy this term running a small business for charity.  She took orders for bracelets and chokers, made the jewellery and packaged it up for delivery.  She worked hard, had a lot of fun and learned lots about how hard it is to run a business.  After paying for supplies, the student donated the proceeds to B.C. Children's Hospital – over $53!! Well done! Thank you to all those who supported.
9.  Fairy Tales 2.0 – Mrs Coffin's students have been working hard on their writing by taking a traditional fairy tale and updating it with new characters and changes to the plot. The students were so proud of their writing and illustrations in their first book!
10. Shading With Self-Portraits – Mrs Johnson's students had Mrs Piorecky, a fine arts teacher from LSS, come and work with them Friday morning to learn about shading as they created their own stunning self-portraits. Be sure to check them out on display across from their classroom.
11. Above the Pot of Gold – Mrs Kazakoff's class has been learning about the properties of water. They recently took advantage of the sun to learn how water (raindrops) act to separate bands of light to make a rainbow. Mission accomplished. Div 7 was also given the challenge of how to make something that sinks, float. They hypothesized, tested it, and then had to think about what needed to change to make it sink/float.
12. The Art of Feelings – Feelings are hard to understand… is it fear? is it anger? is it frustration? is it embarrassment? These are skills that students need to learn about so they can not only understand their own feelings but also empathize with others. Miss Baird's students recently did an art project with various materials and students had to create art that expressed a certain feeling. Check out their finished products on display outside their classroom.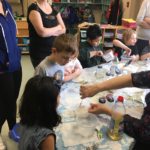 13. Yummy Learning – One of our valued cultural presenters, Deni Paquette, was in this week to share her skills in making some yummy bannock. The students got to prepare, make, and eat this yummy traditional food.
14. Hitting the Ice – Ms Clayton and Mrs Peck's class headed over to George Preston arena to skate (and slide and fall) on the ice. The students came back with red faces and sweaty heads and had a blast!
15, The Future of Langley Basketball – Our grade 4 coach, Mr Sheaff, invited his players to go head to head against the grade 5 team at lunch on Friday. The grade 4s came out strong and gave the grade 5s a bit of a scare at the start but they gained composure to hold off the determined grade 4s. The future looks bright for HD Stafford and James Hill basketball! Thank you to our coaches fro all their efforts again this season.
16. Thank you, Miss Kathryn – We want to wish our lovely Aboriginal Support Worker, Kathryn Heyes, all the best as she will soon welcome a new baby into her family. Thank you to Miss Kathryn for all she has done to support our students and staff over the past 6 months!
Be sure to check out the amazing video that the staff of HD Stafford created for the students and each other. They have a number of staff members having babies this year so they used this as a theme for their pre-spring break video. Watch it below or here.
Check out the school district's Community Bulletin Board for info and opportunities for children and families on spring break and beyond!