December 2, 2017
Families of James Hill, here are 10 Good Things to Talk (with 5 Bonus things!) about with your child and others this weekend!
1. Community and Communication – In order to continue developing community in Mrs Atwal's classroom, they did an activity called 'Ants on a Log'. The class was divided into two groups and asked to line up on the ledge. Without speaking or making sounds, they needed to line up in order of their birthdate. Therefore, a student born on January 1st would be at the beginning and a student born December 31st would be at the end. Students were also not allowed to step off of the ledge to switch spots. Therefore they depended on their peers' non-verbal communication and support to make sure they did not fall off and that they were in correct order.
2. NNNNice! Students in kindergarten are continually learning about letter sounds and letter recognition while also working on their printing skills. This week, Ms Juzkow's students were working on the letter by finding and drawing objects starting with N and practicing printing the upper case and lower case N.  And who better to lead the learning than a student whose name starts with N!
3. Inspired by BC Artist – Ms. Clayton's students have completed some beautiful artwork inspired by BC artist, Roy Henry Vickers. They read a few of his books, looked at his style of artwork and then did their own in his theme. We sent a tweet to Mr Vickers and his response is below!
4. Connecting Through Passions – Our resource teachers, Ms Edwards and Ms Candido, have been connecting and working with a few students in an area of interest and passion a few times a week. We have plants growing, model trucks and cars being designed, dances being choreographed, and jewellery being designed… oh yeah, with tons of learning taking place!
5. Honing Their Craft – As a response to a student with a huge interest in crafts, Ms Edwards, Mrs Candido, and Mrs Johnson, have organized a grade 4/5 Christmas Craft group that meets twice per week. There are few things better than seeing students engaged in areas of strength! Thank you to these teachers for volunteering their time at lunch.
6. Lining Up the Dots – Students in Mr Graber's math class are digging the fact that they are seeing their addition and subtraction skills growing as they are challenged with doing this with decimals.
7. Loving Math – We recently honoured another group of grade 5s at our monthly assembly and they were able to share some things they loved about school. We are seeing more and more students say they love math (so far, 16/22 grade 5s have said math is one of their top 3 things they love doing at school!) and they tell me a big reason for this is the use of math games! Recently, Miss Ford was encouraging the use of math games as her students filled the classroom and hallways as they played a variety of math games.
8. Judging a Book By Its Cover – Miss Anderson has been spending time with students talking about the importance of illustrators in books and reading. This past week, in preparation for our Book Fair next week, students took part in a Book Cover Illustration contest.
9. Can't Catch Me!  Mrs Brooks and Miss Baird's class buddies were given a bag of supplies with the challenge of creating a boat that could best transport their gingerbread person across the "river"!
10. Drawing With Interest – Miss Anderson's class took part in a directed drawing activity with a new teacher…  YouTube! Students were given the chance to choose an object/theme of interest and then find a video to teach them how to draw it. The drawings turned out very well!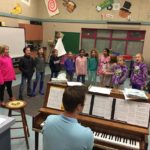 11. Sing! Our choir continues to share their passion with their voices twice a week at lunchtime with Mr Steeves. They are busy practicing for the Christmas concert and we can't wait to see/hear them perform! Thank you to Mr Steeves for volunteering his time at lunch to promote and teach this choral group!
12. My name is… Batkid!  Ms McColl's students continue to learn about bats in many areas of the curriculum. They recently created their own bat masks which they wore proudly in class.
13. Order up! Mrs Kazakoff's class have been talking about plot in class and spending some time reflecting on the sequence of events in stories. They recently had the challenge of sequencing the events of the story Owl Moon. The students have also shared their creative owl artwork on display in their classroom.
14. Cards for a Special Reader – Mrs Johnson's students spent some time making their own cards for residents of the Langley Hospice Residence.  Mrs Johnson has a special relationship with the Langley Hospice Society and will take these cards to people living there in a few weeks.
15. It's All About Strengths! We spent some time to honour another set of Grade 5s this month for their strengths, interests, and talents. We also shared a slideshow of awesome pictures from November. You can view it here.