March 4, 2018
Families of James Hill, as this past week was Respect and Diversity Week in Langley Schools, teachers had the option of focusing on a variety of topics while having kindness, care, and understanding at the forefront. It was a busy week (on top of teachers writing report cards) but there were so many awesome things happening that I couldn't fit them into 10! Information for the Week Ahead is at the end of this post. 
10 14 Good Things to Talk About
1. Person First, Disability Last – We were honoured to have Zosia Ettenberg and her team from Langley Pos-Abilities come to James Hill on Friday to help our students gain a better understanding of the importance of seeing a person first… rather than seeing the challenge first. The organization typically works with businesses to create better access and understanding and our school was the first school for them to ever work with. Students also had the chance to go through a number of different stations that simulated challenges such as visual and motor impairments (loss of use of eyes, one arm, legs, or fingers) with the goal of completing an everyday task. Click here to learn more about Langley Pos-Abilities. To read the article in the Langley Times, click here.
2. 100s of Ways to Create – Mrs Peck's students spent some time this past week working on their creative thinking and collaboration skills while counting to 100. Students were given bins full of 100 items with the challenge of creating something meaningful to them. Students built homes, artistic works, animals, robots, a cup tower, and even cups in the form of the word "love" (very timely for this week!).
3. Booking Kindness – Students in Miss Baird's class spent Pink Shirt day making books about how to be a kind friend. Students worked individually and together to practice their writing on the important theme of kindness.
4. A Great Way to Talk Behind Someone's Back – Miss Anderson read the book, "We Are All Wonders" to her library students and then challenged them with a kindness task. Students all had paper taped to their backs and then went around writing kind messages to each other on their backs. You should have seen the smiles as they were reading AND writing!
5. Growing Up – Mrs Hobbs' students were so excited to see that their salmon have hatched and moved into the Alevin stage! On this theme, they have also been practising writing by creating poetry about salmon as well as drawing pictures of salmon in the oceans and streams.
6. Ache Brasil – On Tuesday, we welcomed musicians from Ache Brasil to share drumming, dancing, and music from Brazil. They wowed our students and even invited a few of them to come up and take part. For more info, check out their website here.
7. Reflecting on Stereotypes – One of our topics this week was to reflect upon gender stereotypes. Students in Ms Clayton's class used some questions like "is it ok for girls to play boys' sports?" and "is it ok for boys to knit" to springboard some reflective discussions. Miss Baird's class used examples of various clothing to decide if it would be ok to for boys/girls to wear. Other classes used the books like Todd Parr's  "It's Okay to be Different" or Christine Baldaccino's "Morris Micklewhite and the Tangerine Dress".  Pink Shirt Day was also used as a platform for discussion on stereotypes around colours. The goal of the discussions was to understand that it is ok to be different, sometimes people don't always wear or do what is "stereotypical", and we always need to be accepting and kind.
8. The Quest for the Golden Boot Team Blue beat Team Red in the final of the James Hill Hockey League and this meant that they got to face off against the Super Staff for the Golden Boot. In a fun and competitive game in front of a full gym, the Super Staff rallied with goals from Amazing Anderson and Sweet Moves Steeves, while the Great Graber closed the door in goal, and they came out on top with a 2-1 win.  The is the first time since 2015 that the Super Staff have won the Golden Boot.
9. Breaking Out! Mrs Johnson's students had to use their creative thinking, collaboration, and problem-solving skills to help solve many puzzles and break out to complete the task in their BreakoutEDU challenge. It was awesome to sit back and observe leadership and so many other skills in the students.
10. Feeling Lucky? Miss Ford's students focused on gratitude this week as they talked about the many things they are thankful for..  in the form of a lucky four leaf clover. Check out the many things they are grateful for on the board outside their classroom.
11. Identity Day Projects Have Started!  Students spent time in all our classes reflecting on their strengths, talents, family history and culture, and the many things that make them who they are!  The end goal is to create a project on themselves that they will share with their peers in the school. Identity Day is scheduled for April 16.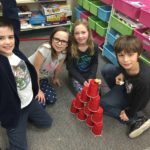 12. Cup STEM Challenge – Mrs Atwal's students worked in groups to create red cup pyramids. The catch: they could not touch the cups with their bodies, only the straws, string, elastic bands, and cotton balls provided! Teamwork, creative thinking, and collaboration were a necessity!
13. Coding Each Other – Typically, when we talk about coding, we think about students on technology. You can also paper code and even code each other! Mrs Reavley's students spent some time getting each other to move throughout the classroom with their coding last week.
14. A Maker Style Book Report – Miss Anderson challenged the creative minds in her class as students had to read a non-fiction book, write some notes as part of a report, and then, using the various materials supplies, make something that represented their learning from their reading. There was such variety on display as students created backdrops, solar system models, mummies, and so many other models of their books.
The Week Ahead
Our grade 5 basketball team has their year-end playday at HD Stafford on Wednesday from 3-5pm.  The team has had another successful season this year!
On Thursday at 11:00am, we welcome Dream Rider productions to put on H2Whoa – a performance about water conservation.
On Friday, we have our monthly assembly at 2pm when we honour another set of grade 5s and look back and celebrate the past month at James Hill.
Hot lunch on Friday (A&W).
Term 2 Report Cards will be published online to the parent portal on Friday, March 9. If you do not have your password, please contact the school. If you would like a paper copy, please let your child's teacher know.
Parent-teacher conferences will be coming up Wednesday, March 14 (2:00-4:30pm) and Thursday, March 15 (2:00-7:30pm). The online signup link will be sent out (likely) Tuesday of this week.  Students will be dismissed at 1:45 on these days.
Spring Break (with Easter) runs March 19-April 3. Schools re-open April 4.
Don't forget to check out the School District's Community Bulletin Board with tons of opportunities for children and families in the community.
Have a great week!