February 25, 2018
Families of James Hill,
Here are 10 Good Things to Talk About and some updates and reminders in The Week Ahead:
10 11 Good Things to Talk About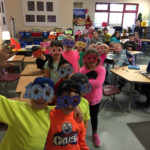 1. Celebrating 100 – Mrs Peck's students celebrated the 100th Day of School (or close to it!) last week as they invited family members into the library for some food and songs/poems that showed their learning of numbers to 100. The also took a little trip to perform for their buddy class, Ms Clayton.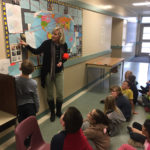 2. How'd You Get Here? Students in Mrs Kazakoff's class have been researching where their families are from. As many of our students are settlers to Canada, students placed their country of origin on the world map while including some documents sharing a bit about who and where they come from. Check out their countries on the bulletin board outside their classrooms.
3. Who's Taller? Ms McColl's class has been working on developing number sense by playing a variety of games using unifix cubes, dice, buttons and 2 sided counters. In the picture, students worked with partners to build block towers and then put their towers together to compare and measure which tower was the longest!
4. The Shape of Math – Mrs Hobbs' students have been having a blast exploring 2- and 3-Dimensional shapes with a variety of objects in class. They are learning how different shapes can come together to form new 2D and 3D shapes.
5. Don't Drop Them! One of Miss Anderson's students expressed an interest in learning to juggle… so with her expertise in this area, the students took some time to learn about learning and get moving to learn how to juggle! Not sure families should be offering their fruit or nice cups yet but some students got the hang of it with the scarves!
6. Rock, Paper…. Scissors! Students seem to be thoroughly enjoying their "Langley Picture Book of the Year-nominated" books that have been circulating through the school. Miss Anderson recently read "The Legend of Rock, Paper, Scissors" with her library students and then they battled it out in some epic rock, paper, scissor matchups. They also graphed out the results to add a little numeracy to the literacy.
7. All About Relationships – As students learn to move deeper with math, they start to see the many relationships that exist with numbers and numerical processes. Ms Clayton's class recently explored the relationship between multiplication and division and how strategies like grouping work for both!
8. Showing Their Muscles – Mrs Johnson's class finished off their unit on the musculoskeletal system by creating an iMovie that showed their knowledge various muscle groups. They also recorded themselves showing the difference between static and dynamic stretches and describing some sample movements that work certain muscles.
9. Let the Playoffs Begin – The regular season came to a close last week with Yellow leading the way. One of the goals of the regular season is to make sure the teams are fair… so the commissioner made some trades that evened out the teams. Because of these trades, the 4th place team (Blue) took on the 1st place team (Yellow) in one of the most intense games I have seen in the James Hill gym. Mateo ended up scoring the winner for Team Blue with only a minute left to play. Blue will now take on the winner of Red/Green for the chance to play the Super Staff in the Golden Boot game on Thursday!
10. Loops and Beats – In one of the most engaging performances we have had at the school, artist RupLoops mesmerized our students with various forms of music such as Beat Boxing and Looping. Some students had a chance to come up and record their own sound to add to the loop for a song. The entire school was up singing and dancing by the end of the show.
11. School's Strongest Student – We have some of the strongest students I have seen… they are in Ms Atwal's class and they can bend bones! As part of their learning of the skeletal system, the students observed the impact on bone strength when calcium is removed. Bones were left in acid for a few days and then students spent time observing the changes… and bending bones!
The Week Ahead
Monday is a half day for report card prep. Students will be dismissed at 11:36am.
This Week is Respect and Diversity Week!

This week, like every week at James Hill, is a time to place focus on kindness, compassion, care, and understanding.
Students will learn about Brazilian culture through music on Tuesday as we welcome the artists, Ache Brasil (9am).
Wednesday is Pink Shirt Day so we encourage students to really focus on kindness.  Wearing a pink shirt is supported but is not meant to be a stressor. If you cannot find a pink shirt or your child does not want to wear one, encourage them to focus on kindness (you don't need a pink shirt to be kind!).
On Friday, our grade 4/5s (and possibly some other classes) will be welcoming a local organization called Langley PosAbilities to our school. This non-profit group will lead our students through some activities to help them better understand life with a disability. Most of the school will also meet to watch a video created by the organization.
Classes will also continue to explore topics such as gender stereotypes this week.
Indigenous teachings and understanding are also embedded in what we do in class. We will start our emphasis on the Seven Sacred Teachings (or Seven Grandfather Teachings) this week with the teaching of "Humility" (the Wolf) (thank you to Ms Kathryn and Mrs Edwards for the idea to bring these teachings school-wide).

Respect for others in the community ("the pack")
Be humble and not arrogant

Our exciting new school-wide project will be introduced to the students this week. Identity Day will be a school event in which every student, and many staff members, will do a presentation about something in which they are proud – a strength, passion/interest, or something about their family. More info will be sent to parents tomorrow! The event will be held April 16. For a look at Identity Day at another school, click here.

Grade 5s play in their 4th and final game of the season (after wins against Uplands, Nicomekl and Simonds) as they travel to Douglas Park on Tuesday.
The 2nd playoff game of the James Hill Hockey League takes place Tuesday as Red plays off against Green. The final is on Wednesday with the winner of that game playing in the Golden Boot against the Super Staff on Thursday at lunch.
Friday is Popcorn Day.
Have a great week!