February 18, 2018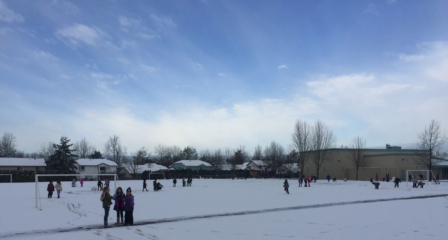 Families of James Hill,
Here are 10 Good Things to Talk About from the past week at James Hill followed by information and reminders for the week ahead.
10 Good Things to Talk About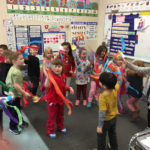 1. Lunar New Year – Many classes celebrated the Spring Festival and Lunar New Year with dragon puppets, parades, dances, and songs. Gong Hei Fat Choy! Check out our Instagram and Facebook Page for a few pictures.
2. Final Club Day – Our final session of club days happened on Friday as students continued to hone their new crafts in areas such as visual arts, dance, drama, crafts, sports, technology, literacy, and design! Thank you again to all our staff (and Miss Tamiko) for the extra efforts in making Club Days a success once again!
3. Future Voters – Mr Graber spent time with his students learning, reflecting, and discussing the different roles and responsibilities in civic, provincial, and federal governments. These students are on their way to becoming informed, democratic citizens!
4. Babysitters Club – Our learning commons teacher, Miss Anderson, spent time with some intermediate students reading and thinking about one of the Langley Book of the Year books, "How to Babysit a Grandpa". The students then had to come up with their own outline on "How to Babysit a _____" (whatever they chose). Check out one of Miss Anderson/Miss Ford's students outline on How to Babysit an Artist (click to enlarge).
5. Calling Captain Kind! If you noticed some extra kindness this week, you know who to thank! Students in Ms Juzkow's class wore their kindness masks and practiced caring for others as Captain Kind! The students have also been working on akindness challenge and are able to cross out tasks on the wall as they complete them.
6. Snow Day! Just when we thought students could not be MORE excited about Valentine's Day… it snows! Students had a blast building snowmen and snow forts while also engaging in some epic battles in the snowball zone!
7. Olympic PE Athletes – Mrs Lambert converted her PE classes into mini Olympic events (complete with a torch for each team) as teams learned about different events and then participated in some fun relays. The students participated in events like cross-country skiing, skeleton, and speed skating.. with no shortage of smiles.
8. Take Note! – Mr. Steeves was teaching and reviewing notes (A-G) in music class this week. Some classes had a chance to learn, think, and then get up and move as a team as they worked together to select the needed notes as part of the challenged.
9. Understanding ADHD – About 80 parents, caregivers, and educators came to James Hill on Thursday night to learn from counsellor and speaker, Ted Leavitt to help build a better understanding of ADHD. My big takeaway was that we need to first understand the child and ADHD and then create the conditions for more success for the student. I took a few notes and can be read here. The first 90 minutes were recorded and are on our Facebook Page.
10. Another W for Basketball – Our grade 5 basketball team hosted Nicomekl this week and had another great game. The team won with stellar shooting, effective ball movement and an awesome team effort.  The team hosts Simonds this Tuesday after school.
The Week Ahead
Artists RupLoops is here on Tuesday at 9am for all the students to watch and learn from.
Grade 5 Basketball hosts Simonds at 3pm in the James Hill gym.
Friday is a Pro-D Day so there is no school for students.
A reminder that the breakfast program is in need of volunteers. You can sign up for time slots here.
Pulse First Aid is offering a first aid course for grade 4/5 students on Friday at Alice Brown Elementary. Information can be found here.
The Township of Langley Summer Camp guide can be viewed electronically here.
Be sure to check out the many opportunities for kids and families in Langley on the Community Bulletin Board.