January 13, 2018
Families of James Hill,
We have started off 2018 the same way we finished 2017… with so many good things to talk about!
1. Making Sense of Sentences  Students in Mrs Brooks class have been focusing on sentence structure by using a "Making Sentences" strategy (developed by Langley teacher Lisa Peterson). It encourages students to build in all the parts of a sentence and to recognize what is needed for a sentence to make sense. It also teaches them how to add more details to expand their use and variety of sentences in their writing.
2. Thinking About Authors – Mrs Kazakoff's class has started studying the work of a few different authors this term. They recently read a number of Jan Brett books and then did a thinking and connecting strategy (using a Venn Diagram) to compare, contrast, and connect two Jan Brett books.
3. Drumming Their Way Into 2018  Mrs Peck's students welcomed cultural presenter Carman Mackay into their classroom to teach them about the importance of the drum, singing, and storytelling in Indigenous culture.  Students were captivated by the sound of the drum, the rhythm of the songs, and the manner in which stories have been told for centuries and centuries on this land we now call home.
4. Button Blanket Dolls – Mrs Gill and Mrs Peck's students also had a chance to experience and learn about the importance of the ceremonial blanket. Krystal Delong, a cultural presenter, shared her experience and wisdom so that our grade 1 students could then create their own Button Blanker Dolls.
5. Learning "Sew" they Remember – Students in Mr Graber and Miss Ford's classes had the chance to not only also learn the importance of the ceremonial blanket from Krystal Delong, they also had a chance to learn to sew buttons on their own small blankets. Students were so excited to share their finished products!
6. Movin' Math  On rainy days, it is that much more important for our students to get up and moving around. Mrs Reavley's students had the opportunity to do this for a variety of math tasks they had spread around the room. Students grabbed their clipboard, searched for the tasks, and then worked to problem-solve their way through these tasks. Not a whole lot of "sit n get" for this math class!
7. Determining the Strengths Within  We all have strengths and talents – things that we are good at and things that energize us and make us feel our purpose.  Ms Clayton's students spent some time doing a thinking routine called "Chalk Talk" and exploring their gifts within their identities.  Chalk Talk is a routine in which students are not allowed to talk and must build on the ideas of others by only writing on sheets spread throughout the room. Students shared what they thought their gifts were (ex. sports, music, caring, math, humour, etc) and other students came and added what they see as strengths.  Students then chose what they felt their top strength is and used this as the core of a medicine wheel to show how their gifts help them with beliefs, feelings, and thoughts. Such a powerful activity to help develop the core competency of Positive Personal Identity.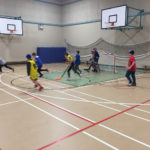 8. Game On! Students have started to hit the court for some ball hockey. Although the league officially starts next week, the students had a chance to try out ball hockey in preparation for the league. Special thanks to Mr Graber for volunteering his lunch hours to help out!
9. The Math of Grocery Shopping  Students in Mrs Johnson's class are excited to put their math skills to work as they have been preparing for their shopping trip to IGA next week. They have been analyzing prices, figuring out budgets, and creating shopping lists to take their math in the classroom out into the world.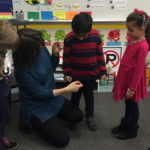 10. Patterns, Patterns, Everywhere  Students in Ms McColl's class spent some time hunting for patterns this past week… they even found patterns on their own clothing!  They also have been working hard at reading and writing each others' names and using these in sentences. Their world is starting to open up as they look through a lens of literacy and numeracy.
11. Big Questions! Mrs Hobbs' students are exploring open-ended questions in Social Studies in groups. For example: Predict what Langley will look in the future or what would happen if we didn't have leaders to run our cities and country? The students shared so many good ideas!
12. The Why, the How, and the What of Reconciliation  Staff spent some time at our latest staff meeting reviewing and sharing our thoughts, through a chalk talk activity, on the importance of reconciliation in education. As Justice Sinclair, of the Truth and Reconciliation Commission, stated, "the education system contributed to the problem [the way Aboriginal Peoples have been treated] and it is the education system, we believe, we help us to get away from this".  Please take 3 minutes and watch the video below.